Save High Lawyer Fees and
Learn from the Pros

by Using Our F

requently Updated

Online

UFOCs & FDDs

Database to

See How the World's Most Successful Franchises Are Doing It

Sticking to the policies and procedures that make your business succeed is crucial to your franchising system success and for your franchisees too.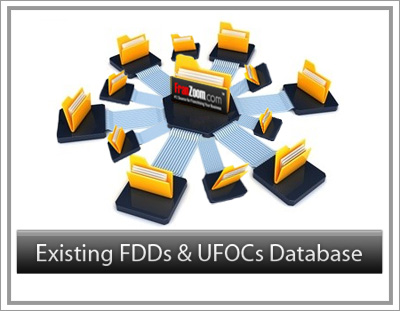 The Franchise Disclosure Document, or FDD (Formerly known as UFOC, or Uniform Franchise Offering Circular) is the first step before your prospective franchisees sign your franchise agreement.

The Franchise Disclosure Document, contains 23 different items of disclosure and informs your franchisees of their rights and obligations.

Whether this is your first FDD or you are updating your existing Uniform Franchise Offering Circular (UFOC) to comply with the new FTC rules, our Frequently Updated Online UFOCs & FDDs Archive database will give you access to the most recent UFOCs & FDDs for over 200 top branded franchises. See how the world's most successful franchises are doing it and gain an unfair advantage over your competition.

You can search "By Industry" or "By Company" and download unlimited amounts of UFOCs & FDDs for your private use.

Our database also contains Financial Statements, Franchise Agreements, Multiunit Agreements, Deposit Agreements, Account Assumption Agreements, Software License Agreements and Deposit Agreements for many well-known brands.
This is a short video we created to help you understand what we have for you in the database
(After you click the "play," it takes about 30 sec to load and start.)

(If the video "jumps," just wait until it is completely loaded [the white line reaches near the end] and move the cursor back to the start.)

All UFOCs & FDDs in our database are provided in a PDF format and are available for download immediately after purchase.
They are compatible with all OS (Windows, Mac & Linux) and can be used on different PC's with no limitation.


FranZoom.com Online UFOCs & FDDs Archive Database Includes 3 years FULL Access!




Limited Time Only SALE!

Basic Pro Bundle:

Total Regular Price $319.80
Limited Time Only SALE $149.95
You Save 53% $169.85





(Recommended) Best Seller!