Save High Lawyer and Consultant Fees with Our Step-by-Step Underground Guide to Franchising
Our underground guide to easy franchising contains the step-by-step procedures and  methodologies used by the pros to get the greatest business expansion.
This guide was written by William Taylor, a senior franchising advisor and FranZoom's CEO. This guide contains valuable information that will save you, as a business owner, thousands of dollars and will help you understand how to create a successful franchising business model.
What is the successful franchising business model this guide will teach you?
Gives you FULL protection from lawsuits
Simple to handle and manage franchising model
Inexpensive: Save on attorney fees using prewritten templates, save on franchise marketing – DIY, save on training programs – DIY
This guide is built on years of experience of individuals who have franchised their existing business and omits all the "fluff" and legal jargon that many people may not understand when it comes to franchising.
It breaks down franchising and gives you all the necessary tools and knowledge needed to franchise your business successfully.
Did you know ?
The key benefit of every franchise is that it has
EXTREMELY HIGHLY motivated managers?
These are people who have invested their life savings and this gives them higher motivation than regular managers hired to do the job.
Franchise unit manager would be dedicated to do the job right and to make sure their unit runs well and delivers the results required results.
How many times have you been to a store and somebody gives you a wave, "oh, we are closed now, see you later"? that does not happen at a franchise.
How many times have you had an employee that does not perform well, but "they are okay" and you do not want to fire him as they are your friend, etc?
What if you are the unit manager and not the business owner? That kind of stuff happens all the time in regular business but that does not happen at a franchise!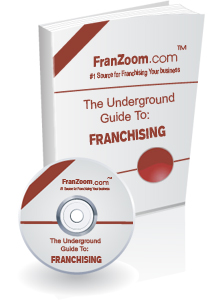 Want to Try Before You Buy?
Click here to download the
Underground Guide to Franchising Sample
Want to Read the Full Story Behind This Guide?
On the following page, you will learn the full story behind our exclusive guide and learn some very interesting facts about franchising.
Click here for The Undergroud Guide to Easy Franchising Full story page
You Will Learn the Answers to These Questions and More:
How Does Franchising Work?
Should I Franchise My Business at All? Can My Business Be Franchised?
When is the Right Time to Franchise?
What is Needed to Franchise?
Strategic Planning to Franchising
The Inner Secrets of the Legal Side of Franchising and How to Fully Protect Yourself
Determining the Initial Fee
Determining the Royalty Fee
Creating a Successful Quality Control System – the Core of Your Success
Legal Documents What and How?
Can YOU Be a Good Franchisor?
The Crucial Differences Between Consumer Marketing and Franchise Marketing
The Basics of a Great Franchise Marketing Plan
The Franchise Sales Process
How to Choose the Right Franchisee
Franchisor Staffing Plan
The Cost of Getting into Franchising
How to Save Thousands When Franchising Your Business
How to Save on Attorney Fees Using Prewritten Templates the Right Way
How to Save on Franchise Marketing
How to Save on Training Programs
How Can I Get Approved Fast for SBA Government Loans to My Franchisees?
How to Create a Simple to Handle and Manage Franchising Model
And more…
Limited Time Only SALE
In Addition, This Offer Includes the Following 15 Bonuses:
2008 Census Population by Counties
Authorization for Background Check
Sample Appendix Template
Application Data Sheet Template
Customizable Lease Agreements
Due Diligence Guide
Franchisee Reporting Template
FTC Rule Change
Initial Investment Checklist
List of Registration/Filing States with Contact Info
Request for Consideration Template
SBA Franchise Eligibility Guidelines
License Application Template
National Business License Web Links
Notice of Default Template
Limited Time Only SALE