"At Last! Learn How Good Businesses Become Great!
Learn How to Franchise Your Business with A Proven Step-by-Step Business Expansion Methodology!"
Hi,
My name is William Taylor, senior franchising advisor and CEO of FranZoom.com.

Working as a senior franchising advisor and CEO at www.FranZoom.com  gives me the pleasure to meet a lot of great entrepreneurs personally and work with them helping them building their businesses.
But this time I want to tell you a story that is known in the franchising world about a young couple.

The story is of Anne and Jonas Beiler; they had nothing to do with franchising, but this is really the whole genesis of what brought them into franchising.

Anne and Jonas were eight-grade educated Amish and they lived in Pennsylvania. They had a dream to create a crisis counseling center just for the purpose of giving back to the community.

Jonas was an auto mechanic, Anne a stay-at-home mom. They did not have a lot of money, but they were not to be deterred; they had tenacity and they decided to build this crisis center.   In order to do so, Jonas had to quit his job and work there full-time.  Anne took a job as a waitress in a farmer's market making $200 a week, so she could supplement that income.

Well, things did not work out quite as planned, as they were not making money. Anne was struggling to find a way to try and make sure that they could pay the bills, and she saw a cart for sale in the farmer's market and she thought Well, maybe I could buy that cart or borrow some money from my folks. I will buy the cart and at the end of the day I will sell pizza and, ice-cream, and pretzels, and hopefully I can make some money.

She borrowed the money, she bought the cart, she got out there and started following her dream, but like a lot of entrepreneurs, there were some stumbling blocks along the way.  Things were not going quite as well as she had hoped, until one day, fate intervened. The vendor sent the wrong supplies and Anne, being tenacious as she was, said to her husband, "Go out and get me some pretzel mix. I am going to make these myself."

Well, Anne's pretzels were a huge success, much better than those things that she had been serving before and pretty soon she dropped the pizza, she dropped the ice-cream, and only sold pretzels and lemonades from her stand. People would line up for them.
  Pretty soon, people started lining up for something else too…

People started asking her "How do I get into this business? Can you teach me how?" and, "Can I buy your franchise from you?"

Anne decided to take up the gauntlet. To make a long story short, she hired the best guys in the franchising industry to put together their business plan, an implementation plan, and then she started selling franchises to interested buyers.

That company grew, and it grew. If you have not guessed by now it is
Auntie Anne's Soft Pretzels.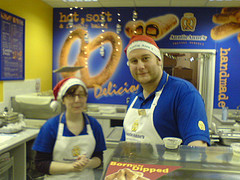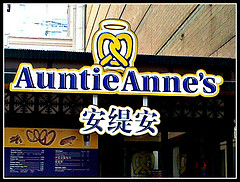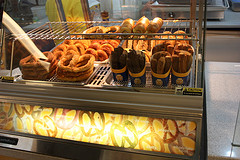 There are over a thousand units in operation, and last year, they sold more than a hundred million pretzels!

Now the reason that this is such a great story is that Anne wasn't very educated and had no financial education and no capital. She had no business training and no business experience.

What she had was a great product, a great idea, a lot of tenacity and greatest business expansion methodology which is franchising!
So, What is Franchising?

In case you don't know what franchising is, how it works, and why all the big brands are using it, let me give you a brief overview of how it can completely transform your business.
The goal: to expand your business from one location to hundreds in a fast, cheap, simple and safe way.

A franchise is a right granted to an individual or group to market a company's goods or services within a certain territory or location. The company is known as the "franchiser," an individual marketing your goods or services also known as the "franchisee."
    How does this benefit you?
Capital from franchisees


Two of the main reasons why people are interested in franchising is profits and cost savings. The cost of opening a franchise is nothing compared to the cost of opening a unit, let alone the cost for opening a large number of units. Using other people's investments enables you to grow rapidly and aggressively.
 Reduced risk


One of the crucial advantages is risk reduction. The franchisee signs all the leases, the franchisee is going to have the liability for what happens in the unit itself (accident, incident, injury, etc). That is the franchisee's responsibility.
Saving time and faster growth


It is faster because other people are out there helping you in the process. The franchisee is going to go out and find a place, they are going to negotiate the lease, they are going to hire the people, they are going to train the people, and they are going to hire the contractor. They are going to do all the things that take you a lot of time as a business owner.
So that allows you to grow much more quickly because you are leveraging of their efforts.
Highly motivated management


The key benefit of every franchise is that it has highly motivated managers. These are people who have invested their life savings, and this gives them higher motivation than regular managers hired to do the job. Franchise unit managers will be dedicated to do the job and will make sure their unit runs well and delivers the required results.
I have a great story about a company called Opti Alfetron.


Opti Alfetron is a Texas-based franchise company. When they began franchising for the first time, they decided that they would sell these units to existing company-owned unit managers. They had about 110 company-owned operations, no franchises, and they did a leverage buyout, as they wanted to recapitalize.


This was a great win-win situation, because as a unit manager they are selling the exact same unit, in the exact same location, with the exact same products, the exact same pricing, the exact same personnel selling it, the exact same décor nothing has changed. The only thing that changes is one day this person is a manager, the next day this person becomes a franchisee.


What happened?
The average unit sales went up 39% in those units!
Why?

How many times have you been to a store and somebody gives you a wave, "Oh we are closed now; see you later"? That does not happen at a franchise.


How many times have you had an employee that does not perform well, but "they were okay," and you do not want to fire them as they are your friend, etc?
What if you are the unit manager and not the business owner…? That kind of stuff happens all the time in regular business, but that does not happen at a franchise.

This means that you surround your whole company with passion coming from each and every  franchise unit.
Long term management


These motivated managers are long-term. If you take a look at some KFC and McDonald's franchisees etc they are third generation. They have ingrained cultural experience from where they grew up!
Why does a franchisee buy…?

I will go into that in more detail in the guide and really help you understand the franchisee type of person so you will be able to market your franchise effectively:

The mainstream entrepreneurs usually think, "Why should I buy a franchise when I can simply open the same business by myself?"
But don't forget that 99% of people are NOT entrepreneurs…
Franchisee mental point of view:


The typical franchisee is someone who needs security. These are people who have been bright students, who have built successful careers and have been consistent in all areas of their professional and personal lives. The classic entrepreneur is 100% different than the typical franchisee person.

The franchisee gets an established and verified business model.
He will use a well-known and established name.

He will have access to businesses of large scale straight from the beginning.

He will know that sales can literally flood in the first day after the unit opens for business.

He can rely on training and continuous support. This is something that no one offers you when you decide to open a business all by yourself
All this means: Higher chances of success, lower risk and a better return on investment for him.

So, this is the perfect WIN-WIN Situation and I think that by now you can really understand how all the big brands become BIG.
The Big Picture for You
Now, Let me help you paint a better picture of this amazing transformation!

Let's say you get just 10 people to buy into your franchise and you have a product that you sell for 100 bucks and each of the 10 people has a store in their respective states selling your product.

Let's say, for example, 5 of the 10 people average 50 sales a day; that's over 250 sales per day. If we translate that into dollars it would be $25,000 in sales per day and…
$750,000 in sales per month!

Out of that, all you're asking for is 15% and this doesn't include their expenses and other fees. This 15% goes straight to you!

So that means the franchisor is banking over $112,500 each and every month on autopilot!

I know I just threw a lot of numbers at you, but I want you to see the big picture of how expanding your business can change your life forever!  What can that amount of money do for you on a monthly basis?


Don't get me wrong; it takes time and a lot of work, but it will pay off. It did for all the big brands, and it will for you too.
Downsides of franchising

There are two main reasons why people hesitate to take action and franchise their business and why the whole franchising system can crash in their hands:
If you don't do things RIGHT from the beginning on the legal side you can get into serious trouble when it comes to FTC rules and lawsuits if your franchisees sue you.

If you don't plan everything on the RIGHT side from the beginning, the costs of getting into franchising can get REALLY high.
You see, you have to hire a franchising attorney to create all the legal documents for you. You have to create a well-planned (and FTC Compliant!) marketing campaign to sell your franchise, and you have to create a franchisee training system.
To address these concerns we created our special guide.

Our step-by-step underground guide to easy franchising is the result of years of dedicated work and experience.

This guide contains a step-by-step plan used by the pros to expand your business.
You Will Learn the Answers to These Questions and More:
How Does Franchising Work?

Should I Franchise My Business at All? Can My Business Be Franchised?

When is the Right Time to Franchise?

What is Needed to Franchise?

Strategic Planning to Franchising

The Inner Secrets of the Legal Side of Franchising and How to Fully Protect Yourself

Determining the Initial Fee

Determining the Royalty Fee

Creating a Successful Quality Control System – the Core of Your Success

Legal Documents What and How?

Can YOU Be a Good Franchisor?

The Crucial Differences Between Consumer Marketing and Franchise Marketing

The Basics of a Great Franchise Marketing Plan

The Franchise Sales Process

How to Choose the Right Franchisee

Franchisor Staffing Plan

The Cost of Getting into Franchising

How to Save Thousands When Franchising Your Business
How to Save on Attorney Fees Using Prewritten Templates the Right Way
How to Save on Franchise Marketing
How to Save on Training Programs

How Can I Get Approved Fast for SBA Government Loans to My Franchisees?

How to Create a Simple to Handle and Manage Franchising Model

And more…

This guide is built on years of experience of individuals who have franchised their existing business and omits all the "fluff" and legal jargon that many people may not understand when it comes to franchising.

It breaks down franchising and gives you all the necessary tools and knowledge needed to franchise your business successfully.
Gives you FULL protection from lawsuits.

Simple to handle and manage franchising model.

Inexpensive: Save on attorney fees using prewritten templates, save on franchise marketing – DIY, save on training programs- DIY.
You can put this guide to work for you instantly!
Limited Time Only SALE
 15 Bonuses!
In order to make this offer a no-brainer for you I have added 15 free special  bonuses that are worth more than $100 alone!
2008 Census Population
by Counties
Authorization for Background Check
Sample Appendix Template
Application Data Sheet
Template

Customizable Lease Agreements

Due Diligence Guide

Franchisee Reporting
Template

FTC Rule Change
Initial Investment Checklist
List of Registration/Filing States
with Contact Info
Request for Consideration Template
SBA Franchise Eligibility Guidelines
License Application Template
National Business License Web Links
Notice of Default Template
Limited Time Only SALE
Yours
William Taylor
1203 W 4th Ave Apt 226
Spokane, WA 99204
USA
Phone number: 1-206-350-8679
P.S
Remember, this guide:
Will teach you how to get FULL protection from lawsuits.

Will teach you how to create a simple to handle and managefranchising model.

Will teach you how to save on attorney fees using prewritten templates the right way, how to save on franchise marketing and how to save on training programs.

Yes I want to learn how to franchise my business successfully

Limited Time Only SALE
FranZoom Advanced Bundle | FranZoom Basic Bundle | www.franzoom.com